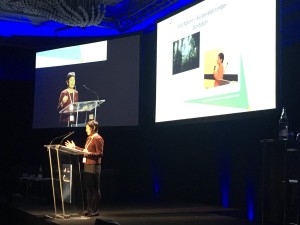 (Mrs. Tuan Anh Pham present at the Forum -IUCN Photo)
On 31st October, at the Global Impact Investing Network (GIIN) Investor Forum 2018 in Paris, Viet Nature's business model for transformation of short rotation acacia plantations to large timber production with mixed acacia and native hardwood timber species won MoMo Challenge 2018 Award.
Vietnam has nearly three million hectares of forest plantations, a major part of which is short-rotation acacia to produce wood-chips, mainly for export. At the same time, it has a growing furniture industry worth 8 billion USD, which has to import around 7 M m3 of raw timber in 2017, and 60% to 80% of the imported timber is used to produce furniture for export. Therefore, there is a huge opportunity for sustainably produced timber. The shortage of timber puts enormous pressures on natural forest, as well as its wildlife.
By lengthening acacia rotation to twelve years to produce timber and intercropping it with a native hardwood species (Tarrietia javanica) of 25-30 year rotation, the returns on investment will be several times higher than that from short-rotation acacia, together with many positive environmental impacts, such as increased carbon sequestation, increased plantation resilience to disasters and diseases thanks to the presence of the native species, reduced soil erosion due to less exposure of the land between rotations, and reduced pressure on natural forests.
The bankable business idea can potentially attract impact investment to help realize the Vietnam's sustainable forest management policy to increase the contribution of forestry sector in its green growth.